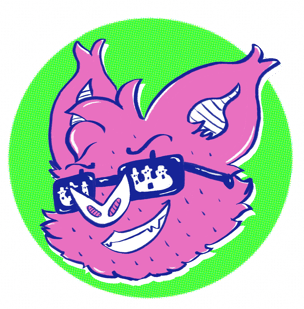 Abby Kacen aka "Mild Pain," currently lives in Cincinnati, Ohio, and has utilized her art-making skills through freelance work in graphic design, youth education, and nonprofit & community organizing. Her most recent position is Creative Projects Manger with ArtWorks Cincinnati. Abby runs "Keep It Weird," a free online resource for independent artists, and occasionally curates, edits, and publishes zines & anthologies. Her style is characterized by a fusion of punk rock, DIY art, show posters, and colorful cartoons.
Abby holds a BFA in Interdisciplinary Art emphasizing drawing & visual storytelling as well as an MA in Nonprofit Management & Leadership from the University of Georgia in Athens, GA. She is constantly seeking ways to create sustainable & accessible spaces for low-income & beginner artists while trying to grow her cartooning abilities.
Her professional work looks like a circus performer spinning many plates at once - from slinging coffee & copies to teaching summer art & music camps to single-handedly fundraising money for art grants, Abby's experience in the arts, service industry, nonprofit sector, & community volunteering makes her an unrelenting force.
Please note that Abby is not a musician,
she just really likes guitar music