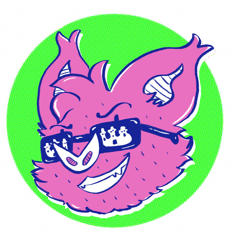 THE ARTIST IS NOTHING WITHOUT COMMUNITY
I worked as a Development Associate & Visual Art Coordinator with Nuçi's Space, a 501(c)3 nonprofit based in Athens, Georgia. Their mission is to prevent suicide with a focus on musicians and artists.
While working there from 2020-2022, I painted a mural and designed signage for the Amplify Recording Studio, oversaw the curation and installation of 5 permanent murals, curated the rotating gallery of Athens music history, and I've designed their annual reports for 2020 and 2021.
In addition, I volunteered and worked as an intern from 2019-2020 and provided additional graphic services for web, print media, and social media.
As a community-focused artist, it is important that I offer my services to organizations and groups whose mission and values I believe in and support.













I began volunteering at Girls Rock Cincinnati as a band coach in 2022 during their summer Camp for girls and gender-expansive youth ages 12-18. Currently, I am a volunteer grants coordinator and assist where I can regarding finances, fundraising, events, and programming.
Girls Rock Cincinnati is a volunteer-led 501(c)3 nonprofit that organizes a music and creative arts summer camp for girls and gender-expansive youth ages 12-18. Their programming creates leadership opportunities, cultivates a supportive community of peers and mentors, encourages social change, and fosters life skills development.








After graduating from Lamar Dodd School of Art at the University of Georgia in 2016, I've been involved in a number of DIY/underground initiatives that support underserved artists and youth.
From teaching comics & illustration summer camps to organizing compilation zines, hosting events, managing a DIY studio, and assisting artists in selling their work, I'm a diehard believer in the culture of DIY and community-led projects.
When I'm not at work or making my own art, I'm out there volunteering and creating time for the things I'm most passionate about: access to art and music, and affordable resources and equal opportunities for artists.
My on-going community project is Keep it Weird, sometimes a compilation zine, sometimes an online shop, but most of the time it's free resource-sharing for visual artists.













From 2020-2021 I served on the Athens Area Arts Council (AAAC) as a volunteer board member.
AAAC is a 501(c)3 nonprofit based in Athens, Georgia. Since its founding in 1998, AAAC's mission has been to connect the arts to the community through promotion, education, and funding.
In this role, I was the Vice President and the chair of the Finance Subcommittee. I assisted in writing grants, reviewing grant applications, fundraising, social media and graphic design.






















From March 2022-May 2023, I worked full-time as a Creative Project Manager with ArtWorks Cincinnati. ArtWorks is an award-winning nonprofit that creates community-based public art that provides career opportunities for artists of all ages.
In my role, I manage partner relationships and project budgets and oversee the implementation of public art projects (often murals).
While this job is more on the administrative side of the arts, I find the most joy working with the artists and young people who share a passion for creativity and being involved in their community.

Starting in May 2023, I've been the Storefront Manager at Indigo Hippo, a 501(c)3 nonprofit based in Cincinnati. Indigo Hippo's mission is to broaden access to creativity, reduce waste, and inspire a sense of possibility by giving creative materials a second life in the Cincinnati community.
In this role, I oversee the daily tasks of maintaining the storefront, which includes donation intake, material sorting & pricing, sales tracking, staff, volunteer & intern management. Furthermore, I assist in maintaining and creating community partnerships among other artists, nonprofits, and organizations in the community whose work supports our mission.